By Ray King
An investigation into a man reportedly shooting at a house on State Street Tuesday has resulted in the arrest of a store clerk accused of hiding two guns that were used in the shooting.
Shairmaine Atkinson, 23, worked as a clerk at a gas station at 1902 University Drive, and was seen on video handing Jason Lawrence and another man a box where they put the guns, Detective Jason Boykin said in a probable cause affidavit presented in court Friday.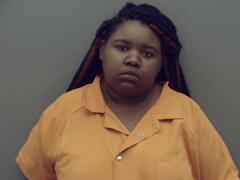 Deputy Prosecutor Caleb Conrad said during the court hearing that police had received a description of the car used in the shooting and found it at the gas station, and Laurence and the other man were inside the store looking at police in the parking lot. Laurence and the other man could be seen putting the guns in a box that Atkinson handed them.
When Atkinson was questioned, she initially said she did not know Lawrence or the other man and didn't know what was in the box. She also said she did not have a problem giving a stranger the keys to her vehicle and said she had asked Lawrence to go to her vehicle and get her lighter.
Jefferson County District Judge Kim Bridgforth set a $10,000 bond for Atkinson Friday after ruling prosecutors have probable cause to charge her with tampering with physical evidence.
On Thursday, a $75,000 cash-only bond was set for Lawrence on probable cause of committing a terroristic act and discharging a firearm from a vehicle.