By Ray King
Pine Bluff Police responding to a reported shooting incident and possible vehicle crash found a car that had hit a tree on private property and a man near the car who said he had been shot at and returned fire.
The incident happened Tuesday night at 34th Avenue and Willow Street and Tyjuan Williams, 24, was walking near the car when police arrived.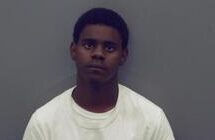 During a court hearing Thursday, Deputy Prosecutor Jay Gerard said Williams initially told police he had been leaving the store when he saw someone he used to know and that person shot at him. Officers located shell casings in the area and were approached by a witness who told them they had seen everything.
Williams told Detective Corey Wilfong that a cousin had taken a firearm and left the scene.
Gerard said Williams has charges of fleeing in a vehicle causing danger and endangering the welfare of a minor pending stemming from an incident earlier this year. Because of those charges, Pine Bluff District Judge John Kearney set a $75,000 cash-only bond for Williams after ruling prosecutors have probable cause to charge him with discharging a firearm from a vehicle.