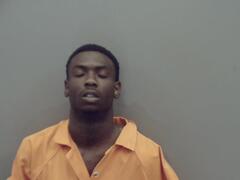 By Ray King
An 18-year-old Pine Bluff man was arrested Friday after an investigation into an incident at the University of Arkansas at Pine Bluff that resulted in injuries to two people.
Kendrin Hicks was taken into custody after he went to the Emergency Room at Jefferson Regional Hospital where he was treated for a gunshot wound to the shoulder.
During a court hearing Monday, Deputy Prosecutor Jay Gerard said officers were sent to the UAPB campus in response to a reported shooting and Officer Nathan Smith assisted other officers in searching the parking lot.
Detective Corey Wilfong reported that Smith followed blood drops and found two large windows at the University Post Office that had been shot out. Meanwhile, another officer went to the hospital to interview the victims.
When Hicks was questioned, he said he saw a male and female fighting and saw guns, so he ran and was shot in the shoulder. He said he saw a gun dropped and picked it up and fired shots.
Jefferson County District Judge Kim Bridgforth set a $10,000 bond for Hicks after ruling prosecutors have probable cause to charge him with first-degree battery. Hicks was ordered to have no contact with the victims until the case is settled.