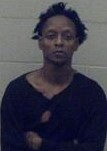 By Ray King
A $10,000 bond was set Friday for a Pine Bluff man accused of entering a parked vehicle and taking cash.
One Bluff District Judge John Kearney set the bond after ruling prosecutors have probable cause to charge Edward Reeves, 38, with breaking or entering and theft of property.
Reading from an affidavit by Detective Chris Wieland, Deput Prosecutor Brittaney Akel said at about 10:08 a.m. Thursday, police were sent to the Saracen Casino Resort in response to a report of a theft from a parked vehicle.
Akel said Reeves has a prior felony conviction for second offense third-degree domestic battery in 2011. The Public Defender's Office was appointed to represent him and he was told to come back to court Oct. 18.