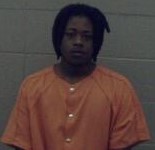 By Ray King
A $100,000 cash only bond was set Friday for a Pine Bluff man accused of robbing another person at gunpoint Thursday.
Jefferson County District Judge Kim Bridgforth set the bond after ruling prosecutors have probable cause to charge Kamarea Wainright, 21, with aggravated robbery, theft of property and violation of the machine gun act.
Deputy Prosecutor Joe West asked for the cash only bond after telling the court that Wainright has pending charges of aggravated assault and committing a terroristic act and is out on bond on those charges.
Reading from an affidavit by Detective Keith Banks, West said on Thursday, an officer was sent to Claremont and Cumberland,
Banks reported that when Wainright was located, he claimed that he won the money shooting dice with the victim and denied having a Glock handgun. Later, police served a search Warrant at Wainright's residence and located a Glock handgun with a switch at the rear that was loaded, and also $420 in cash.
Wainright was ordered to have no contact with the victim and told to come back to court Sept. 29. He said he would hire his own attorney.