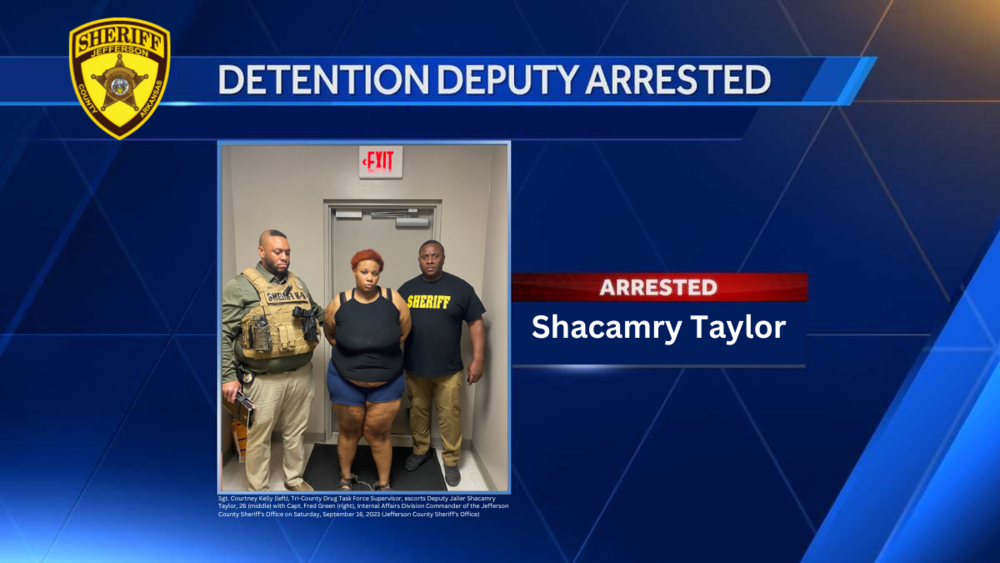 DETENTION DEPUTY ARRESTED AFTER ATTEMPTING TO SMUGGLE DRUGS INTO ADULT JAIL:  Jefferson County, Arkansas – September 16, 2023 – A detention deputy has been arrested after being accused of attempting to smuggle drugs into the W.C. "Dub" Brassell Adult Detention Center.
Deputy Jailer Shacamry Brionna Taylor, 26, was scheduled to report for duty this evening. Upon arrival at her assigned shift, a vigilant jail supervisor encountered Taylor and discovered she was attempting to smuggle contraband into the detention center.
Upon a thorough inspection of the contraband seized, the contents included a green, vegetable-like substance suspected to be marijuana, synthetic marijuana commonly referred to as K2, and tobacco. As a result of this incident, Taylor has been booked into the W.C. "Dub" Brassell Adult Detention Center on felony probable cause for violations of Arkansas Criminal Code Annotated A.C.A. § 5-54-119 – Furnishing, Possessing, or Using Prohibited Articles, and A.C.A. § 5-64-419 – Possession of a Controlled Substance. It is important to note that A.C.A. § 5-54-119 and A.C.A. § 5-64-419 are classified as Class B Felony and Class C Felony, respectively, carrying a term of imprisonment of a minimum sentence of 5 to 20 years in the Arkansas Department of Corrections upon conviction. Additionally, if convicted, Taylor may also be subject to an enhancement penalty of a term of imprisonment not to exceed ten (10) years and a fine of not less than ten thousand dollars ($10,000.00), pursuant to A.C.A. § 5-64-412 – Violations by public officials or law enforcement officers – Enhanced penalties for committing a felony violation.
Sheriff Woods emphasizes that, as a state mandate, deputy jailers are required to complete a minimum of 56 hours of jail training; however, Jefferson County Sheriff's Office goes beyond that requirement by requiring each deputy jailer to complete 72 hours of training. During this training, jailers are repeatedly warned against allowing themselves to be coerced or conspiring with anyone, especially detainees, to bring contraband into the detention facilities. They are informed that severe consequences will follow any such actions.
"One of the very things our training staff and supervisors stress to applicants during the initial hiring process is that if they are caught bringing contraband into the jail, they will be arrested and prosecuted to the fullest extent of the law. We have a zero-tolerance policy regarding the introduction of contraband or any unauthorized items," Sheriff Woods said, adding that Deputy Taylor's arrest was a very clear example of a serious breach of policy and only serves to erode public trust.
"This arrest, like others in the past, also speaks to our commitment to the public in pursuing charges against those who violate the public's trust and threaten the security of our detention facilities, Sheriff Woods said, calling Taylor's actions "a threat and constant challenge among the hiring pool."
"Jail staff must understand that they will be caught, arrested, and prosecuted to the fullest extent possible. Bringing unauthorized items such as drugs and phones into the detention facility threatens the safety and security of our facility as well as that of those who work and are detained therein," he said.
"Thanks to the diligence and attentiveness of our supervisory staff, the introduction of this contraband into the detention center was averted today. We have a zero-tolerance policy against contraband, and we will seek the maximum penalty possible for those who choose to ignore it and violate the law. The Jefferson County Sheriff's Office remains committed to maintaining the highest standards of integrity and professionalism in the operation of our detention center and will continue to take decisive action against any violations of our policies or the law."