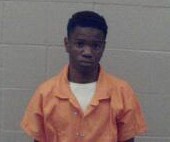 By Ray King
A Pine Bluff man was arrested Friday following an investigation that began Jan. 15 after police chased a vehicle that fled from them.
When he was interviewed Friday, Keion Isom, 18, admitted that he had been in the vehicle at the time of the pursuit, Deputy Prosecutor Mircha King said during a court hearing Monday.
King told the court how the case got started.
On Friday, King said detectives saw the same gray Jeep Wrangler that had run from then Jan. 15 and conducted a traffic stop after obtaining video showing that occupants of the jeep had fired shots at vehicles and houses.
A felony stop was conducted and four people, including Isom, were taken into custody. An AR pistol was seen in plain view at the rear of the driver's seat.
Jefferson County District Judge Kim Bridgforth set a $15,000 bond for Isom after ruling prosecutors have probable cause to charge him with terroristic act, discharging a firearm from a vehicle, and fleeing.
Bridgforth also told Isom that there was a juvenile pickup order for him for violating his probation on allegations of fleeing and possession of a handgun by a minor.
Isom said he would hire his own attorney.