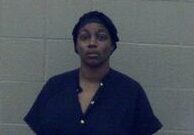 By Ray King
A Pine Bluff woman was arrested Sunday after police saw her beating a 12-year-old girl.
Tamara McBride, 30, was taken into custody after police were sent to 1105 E. 26th Ave., at 4:47 a.m. in response to a welfare check.
During a court hearing Tuesday, Deputy Prosecutor Jay Gerard told the court what officers found.
Gerard said the child had a small scratch on her forehead and scratches on her arms.
Pine Bluff District Judge John Kearney set a $2,500 bond for McBride after ruling prosecutors have probable cause to charge her with second-degree domestic battery. She was ordered to have no contact with the child until the case is settled and told to come back to court Feb. 2.