By Ray King
An investigation into the death of a Pine Bluff man that began July 16 has resulted in the arrest of a suspect.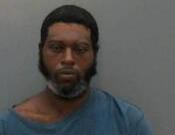 Christopher Edmonds, 37, was taken into custody Thursday and taken to the adult detention center on probable cause of capital murder, aggravated robbery and theft of property stemming from the death of Omar Amos, whose body was found inside a house at 1203 Nebraska St., on July 16.
During a court hearing Friday, Deputy Prosecutor Jay Gerard said Amos had been beaten in the face and head by a silver bat that was found at the scene with blood on it. The Arkansas State Crime Laboratory ruled that Amos died as a result of severe blunt force trauma.
Amos' death was the 15th homicide so far this year in Pine Bluff.
Detective DeShawn Bennett reported that officers found that Amos' right front pocket had been turned out and two witnesses reported seeing a black male sitting in the passenger seat of a vehicle with Amos. Another witness told police they had seen a man the witness knew only as Chris at the residence and had seen Chris come out of an abandoned house in the 1100 block of South Florida Street.
Bennett reported that he went to the house and found that the back door had been kicked open and there was a mattress and a blanket inside the house where someone had been sleeping. A white tee-shirt with blood on it was found over a bucket and was taken into evidence.
Gerard said there was no one at the house when police were there but after they left, they saw a black male later identified as Edmonds walking a block away and he told officers his name was Chris. He also said he had been staying at the house.
Edmonds was taken to the Detective Office where he waived his right to an attorney and said he was the last one to see Amos alive. He said he and Amos got into an altercation and he grabbed a silver bat which was normally kept behind a door and beat Amos with it. He also said he stole Amos' cell phone but threw it away in an undisclosed location.
Pine Bluff District Judge John Kearney ruled that prosecutors have probable cause to charge Edmonds with capital murder, aggravated robbery and theft of property and said Edmonds would be held without bond pending the filing of formal charges.
Also, Edmonds will be held without bond on an alias bench warrant that was issued after he failed to appear for a review hearing on his probation stemming from a 2014 case and a petition has been filed to revoke that probation.
The Public Defender's Office was appointed to represent Edmonds.