The Pine Bluff Police Department is mourning the loss of one of their own following an officer involved shooting at the Econo Lodge at the corner of Martha Mitchell Expressway and Blake Street.
The shots fired call went out across the radio at approximately 12:00 p.m. At 2:10 p.m. attending physicians at Jefferson Regional Hospital declared Detective Kevin Collins deceased from wounds he sustained in the shooting according to Pine Bluff Police Chief Kelvin Sergeant.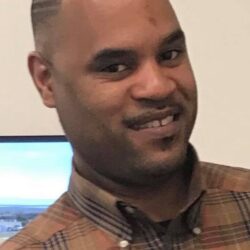 "Unfortunately, today at 210 North Blake at 12:05 Kevin was shot," said Sergeant. "At 2:10 the attending surgeon pronounced him deceased from his injuries."
"Kevin Collins hired onto the police department June 8, 2015," said Sergeant. "He was a five-year veteran with the Pine Bluff Police Department. He worked in the patrol division and his current assignment today was where he was assigned to the violent crimes unit."
"Kevin Collins is an officer who I remember back six or seven years ago he was working for MECA, which is our Metropolitan Communications Association," said Sergeant. "He always had the desire to be a Pine Bluff police officer. That's one thing that he wanted to do, and he got his opportunity on June 8, 2015. I will say, when he raised his right hand and swore to do this job, he became an excellent officer of the Pine Bluff Police Department."
Two other officers were also involved with the shooting.
Officer Kelsey Collins did not sustain any injuries in the incident. Lieutenant Ralph Isaac, a 20-year veteran with the Pine Bluff Police Department, sustained injuries and is listed in stable condition at Jefferson Regional Hospital.
DeltaplexNews.com was on the scene when one suspect was arrested. We have learned that two other suspects were wounded in the exchange, and according to the Arkansas State Police have been released from the hospital and taken into custody.
Video of officers from multiple agencies escorting Collins' body to the state crime lab can be viewed below.