By Ray King
A Pine Bluff man currently on state and federal parole was arrested Tuesday after he allegedly kicked in the door of an apartment and threatened his former girlfriend with a gun.
Devonta Piggee, 26, was taken into custody after police stopped a vehicle he was driving that was seen leaving the apartment complex where the alleged incident occurred.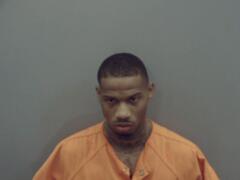 Reading from a probable cause affidavit from Detective Keith Banks, Deputy Prosecutor Jay Gerard said the incident occurred on Feb. 16 when police were sent to an apartment in the 1100 block of East 26th Avenue in response to a reported burglary and interviewed the victim.
The victim told police that Piggee lived in a different apartment in the complex and police issued a bolo (be on the lookout) for him. On March 2, an officer reported seeing Piggee and a woman leave the apartment complex in a vehicle and a traffic stop was conducted. The female, who was the owner of the vehicle gave police consent to search her apartment and vehicle and during the search of the apartment, a black Smith and Wesson nine-millimeter handgun was found.
Gerard said when Piggee was interviewed, he denied kicking open the apartment door and denied pointing a gun at the victim. In the affidavit, Banks reported that Piggee previous convictions for aggravated assault in 2015 and 14 counts of theft of property in 2017 and was sentenced to prison with the state sentence to run concurrently with a federal sentence.
Pine Bluff District Judge John Kearney on Thursday set a $150,000 bond for Piggee after ruling prosecutors have probable cause to charge him with aggravated residential burglary, aggravated assault on a family or household member and being a felon in possession of a firearm. He was ordered to have no contact with the victim until the case is settled.