By Ray King
A Pine Bluff man was arrested Monday after he allegedly shot at another man who was allegedly stealing parts from vehicles, then hit the man in the head and held him captive before calling the police.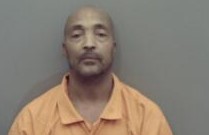 Kevin Langel, 49, will have to post a $5,000 bond to be released from the adult detention center after Pine Bluff District Judge John Kearney ruled prosecutors have probable cause to charge Langel with first-degree battery, aggravated assault, and kidnapping.
Deputy Prosecutor Caleb Conrad said police were sent to 3301 W. Pullen St. after Legal called police to report that he had a thief in custody and said he caught the man, later identified as Shane Lampkin, stealing catalytic converters of vehicles on the lot. Reading from an affidavit from Detective Corey Wilfong, Conrad described what Langel said.
Lampkin was read his rights and agreed to make a statement.
Wilfong reported that officers served a search warrant at the property and were unable to find a weapon and when Langel was asked to take a gun residue test, he said he had been to the gun range earlier that day, then asked for an attorney.
Lampkin was taken to a Little Rock hospital where he was diagnosed as having a fractured skull.
Langel said he would hire his own attorney.