By Ray King
A Jefferson County man was arrested Wednesday after he allegedly hit and kicked his girlfriend and struck her son during an altercation.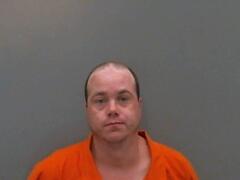 Phillip Hays, 34, was taken into custody after sheriff's deputies responded to a reported domestic disturbance on Tar Camp Creek Road. A female at the location said her boyfriend, Hays, came home intoxicated and was upset about their finances. She said he hit her in the face and knocked her to the ground, then began to kick her.
She said her 14-year-old son tried to intervene and Hays struck her son.
Deputy Prosecutor Beth Carson said when deputies arrived, Hays said his girlfriend had yelled at him about getting drunk and about their finances but said he "refused to incriminate himself." Deputies reported Hays had a strong odor of intoxicants, was unsteady on his feet and his speech was slurred.
When they attempted to take him to the adult detention center he complained of shortness of breath and was taken to Jefferson Regional Hospital where he was treated and released. He was not questioned after he asked for an attorney.
Carson said Hays had previously been convicted of misdemeanor domestic battery in Chicot County in 2017.
On Thursday, Pine Bluff District Judge John Kearney set a $25,000 bond for Hays after ruling prosecutors have probable cause to charge him with second offense third-degree domestic battery, a felony, He was ordered to have no contact with the victims until the case is settled. The Public Defenders Office was appointed to represent Hays.