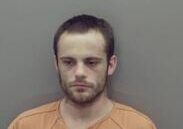 By Ray King
A Pine Bluff man currently on parole was arrested Monday following an investigation into the theft of multiple four-wheelers, a jeep, and a gun in a series of incidents that began Saturday.
Paul Weeks, 27, whose previous convictions include burglary and aggravated robbery was identified as the suspect from video surveillance and witnesses to some of the incidents.
During a court hearing Wednesday, Deputy Prosecutor Beth Carson said a black and yellow four-wheeler was located by Arkansas State Troopers in a wooded area off Interstate 530 and a check indicated the vehicle had been reported stolen.
The following day, a 2009 Honda four-wheeler was reported stolen, and a witness told deputies they had seen a skinny white male with neck and chest tattoos ride away on the four-wheeler.
Reading an affidavit from Sheriff's Investigator Terry Wingard, Carson described what happened next.
That same day, a 1994 black Jeep was stolen, and deputies were able to use video to identify the thief as Weeks.
On July 19, the Jeep was recovered as was the 2009 Honda. A witness told deputies they had stopped where the vehicles were recovered and seen a male later identified as Weeks who pointed a gun at them.
Carson said Wingard located Weeks at a mobile home park. He was arrested and waived his rights.
Weeks said he did not remember stealing the jeep but said he was high at the time. He said he fled from deputies because he did not want to go back to jail.
Pine Bluff District Judge John Kearney set a $50,000 bond for Weeks after ruling prosecutors have probable cause to charge him with five counts of theft of property, theft of a firearm, theft by receiving, aggravated assault, felon in possession of a firearm, and possession of a controlled substance.
Weeks will also be held on an absconder warrant with no bond pending a hearing to determine if he should be sent back to prison to finish his sentence.