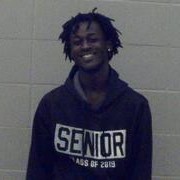 By Ray King
A $15,000 cash only bond was set Thursday for a Pine Bluff man who allegedly pointed a handgun at two people and threatened to kill them.
Jefferson County District Judge Kim Bridgforth set the bond after ruling prosecutors have probable cause to charge Tarqi Jefferson, 21, with two counts of aggravated assault, endangering the welfare of a minor and being a felon in possession of a firearm because of a prior conviction.
Deputy Prosecutor Beth Carson said Jefferson was arrested after Officer Kristen Pennington was sent to a reported disturbance on West 31st Avenue Tuesday afternoon. Two females were reportedly fighting and one of the two told the officer she had been "jumped on."
After Pennington left, she was sent back because police dispatchers reported a large disturbance and a black male with dreadlocks who had a handgun and Carson described what happened next.
Carson said officers saw a black handgun in plain view in the driver's side floorboard of the Nissan Maxima and there were two small children in the back seat who were turned over to their mother.
She said Jefferson is on probation after pleading guilty to felony theft by receiving in July. He was ordered to have no contact with the victims until the case is settled.