By Ray King
A $25,000 bond was set Thursday for a Pine Bluff man who allegedly fired a shot through his door in the early morning hours Wednesday, seriously injuring a woman.
Jefferson County Judge Kim Bridgforth set the bond after ruling prosecutors have probable cause to charge Danny Bolen, 48, with first-degree battery.
During the court hearing, Deputy Prosecutor Jay Girard said police were sent to a house in the 1800 block of North Bryant Street where they found the female victim on the ground bleeding from her head.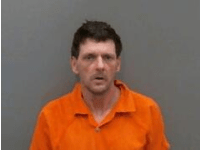 The victim was taken to St. Vincent Hospital at Little Rock where she was reportedly in critical condition and was unable to give a statement.
Bolen was found inside the house and a .22-caliber rifle was found on the couch.
Girard said Bolen told police he had heard a knock at his front door and fired a shot through the door. He also said he did not know who was at the door but thought it was someone who had broken into his house previously.
A witness told police that the victim had gone to Bolen's house to borrow a cigarette and said after the victim was shot, Bolen allegedly said he had got him, the person who had been harassing Bolen.
As a condition of his bond, Bolen, who said he would try to hire his own attorney, was ordered to have no contact with the alleged victim until the case is settled.