By Ray King
A reported shooting at a residence on Bay Street Tuesday afternoon resulted in the arrest of two men who were in a vehicle witnesses reportedly saw at the scene.
Jonathan Harris, 19, and Romeo Collins, 19, were taken into custody after police located the vehicle near the scene.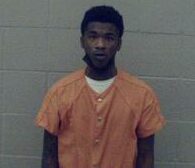 During a court hearing Friday, Deputy Prosecutor Beth Carson said at 2 p.m., police were sent to 2616 S. Bay St., in response to a reported shooting.
Detective Tamina Smith reported that Harris and Collins were passengers in the back seat of the vehicle. Harris said he would not speak to police and Collins said he did not shoot anybody and didn't see anybody shooting.
Carson said while police were taking Collins and Harris to jail, they heard Harris tell Collins "I'm already on bond but I had to get him." Shell casings were recovered and will be processed.
Collins has no criminal history, but Harris has similar charges pending in Jefferson County and is on bond on charges in Pulaski County.
Pine Bluff District Judge John Kearney set a $75,000 bond for Collins and a $50,000 cash-only bond for Harris after ruling prosecutors have probable cause to charge them with two counts of first-degree battery and with committing a terroristic act. They were ordered to have no contact with the victims until the case is settled.