By Ray King
A $50,000 bond was set Friday for a Pine Bluff man accused of pointing a gun at his girlfriend and another person and threatening to kill them.
Pine Bluff District Judge John Kearney set the bond after ruling prosecutors have probable cause to charge Decarlos Spears, 41, with two counts of aggravated assault, two counts of a terroristic act, and one count of being a felon in possession of a firearm because of prior convictions.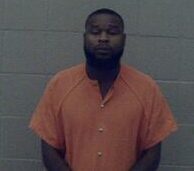 Reding from a probable cause affidavit from Detective Jason Boykin, Deputy Prosecutor Beth Carson said police were sent to a reported armed disturbance on Rose Street just after midnight and when they arrive Spears told them everything was all right and refused to allow them to enter the house to check the welfare of his girlfriend.
About 20 minutes later officers saw females exist at the residence and officers arrested Spears who began to yell and curse at them.
Carson said Spears has prior convictions for residential burglary and aggravated assault.
He was ordered to have no contact with the victims and told to come back to court Aug. 22. He said he would hire his own attorney.