By Ray King
A Pine Bluff man was arrested Thursday after an investigation into a hit and run accident that resulted in the death of a pedestrian.
Justin Tillar, 21, was taken into custody after police found the suspect vehicle, a black and silver Chevrolet Equinox in the parking lot of Tyson. The vehicle reportedly had hair follicles on the passenger side windshield and what appeared to be red clothing fibers on the passenger side of the front fender.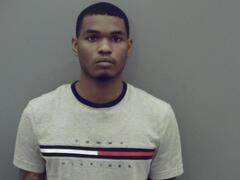 The victim, Tyrone McClinton, 45, was reportedly wearing a red shirt when he was hit. The accident occurred at 6310 Dollarway Road and a witness told police he and McClinton had been walking on Dollarway Road when a black and silver Chevrolet Equinox jumped the curb and hit McClinton, then left the scene.
During a court hearing Friday, Deputy Prosecutor Caleb Conrad said Detective Ryan Edwards took a recorded statement from Tillar and told the court what Tillar said.
Jefferson County District Judge Kim Bridgforth set a $50,000 bond for Tillar after ruling prosecutors have probable cause to charge him with leaving the scene of an accident that resulted in injury or death. Tillar said he would hire his own attorney.