By Ray King
A $50,000 bond was set Tuesday for a Pine Bluff woman accused of using her phone to record a male having sex with a minor female.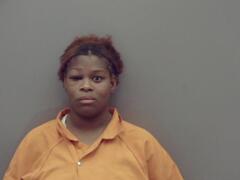 Jefferson County District Judge Kim Bridgforth set the bond after ruling prosecutors have probable cause to charge Startyteona Bennett, 20, with producing, directing, or promoting sexual performance of a child under 17.
During a court hearing Tuesday, Deputy Prosecutor Caleb Conrad said Detective Natalie McCool was sent to Jefferson Regional Hospital Sunday where the 15-year-old victim was being examined for alleged rape.
The victim's mother said the girl had gone to Bennett's house because Bennett had asked the girl to style her hair. The mother said Bennett is the girl's cousin. The mother said she received a video on her phone showing the girl laying on her stomach unclothed and a male on the girl's left side holding his arm in the air.
Bennett was interviewed and Conrad told the court what she said.
Bennett was ordered to have no contact with the minor victim and told to come back to court on July 6.