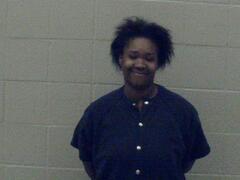 By Ray King
A $5,000 cash only bond was set Thursday for a Pine Bluff woman who allegedly pointed a gun at another woman May 1.
Jefferson County District Judge Kim Bridgforth set the bond after ruling prosecutors have probable cause to charge Tatiana Reed, 21, with aggravated assault.
Reading from a probable cause affidavit from Detective Corey Wilfong, Deputy Prosecutor Lisa McGriff said police were sent to 1101 S. Plum on May 1 in reference to a reported armed disturbance.
McGriff said there is history between Reed and the victim and a pending case in Jefferson County Circuit Court, and there have been on-going issues. The victim also told police the gun Reed pointed at her was the same gun she was holding when she posted threats on social media and showed officers pictures of the post.
When Reed was questioned, she said the two have had issues and when asked about the incident May 1, said she saw the victim and wanted to fight her. She said she chased after the victim with the gun which she said she got from her sister.
Reed was ordered to have no contact with the victim until the case is settled.