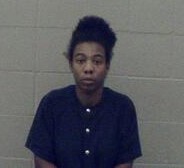 By Ray King
A $5,000 bond was set Friday for a Pine Bluff woman accused of stabbing her ex-boyfriend Wednesday.
Pine Bluff District Judge John Kearney set the bond after ruling prosecutors have probable cause to charge Millie Whitman, 30, with second-degree domestic battery.
Deputy Prosecutor Mircha King described the circumstances that led to the arrest.
King said Whitman pleaded no contest to charges of aggravated robbery, residential burglary and theft of property in 2015 and was sentenced to five years in prison with the sentence suspended. She was ordered to have no contact with the victim until the case is settled.