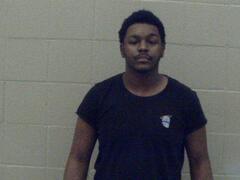 By Ray King
A Pine Bluff man was arrested Wednesday after sheriff's investigators found a handgun that had been reported stolen in the man's backpack.
Darquris Moore, 21, was taken into custody when Sgt. Courtney Kelly and Tri-County Drug Task Force Investigators stopped a Chevrolet Cruz at 14th Avenue and Oak Street because the car had a defective taillight and displayed a fictitious license plate.
Deputy Prosecutor Lisa McGriff explained what happened next.
When Moore was questioned, he said he had bought the gun in Little Rock last year and paid $200 for it. He said he asked the man who sold him the gun if it was stolen and the man said no.
Jefferson County District Judge Kim Bridgforth set a $5,000 bond for Moore after ruling prosecutors have probable cause to charge him with theft by receiving. Moore said he would hire his own attorney.