By Ray King
A $2,500 bond was set Monday for a woman accused of stabbing her husband Friday.
Pine Bluff District Judge John Kearney set the bond after ruling prosecutors have probable cause to charge Betty Rice 78, with second-degree domestic battery.
Detective Ryan Edwards reported that an officer was sent to a house in the 4000 block of Little John Drive where the male victim was being treated by ambulance personnel and was bleeding from a stab wound to his right hand. The man said Betty Rice had stabbed him with a pair of scissors. He also said she usually used an ice pick but he had hidden it from her.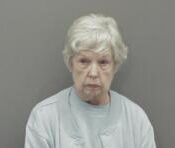 Deputy Prosecutor Caleb Conrad said the ambulance personnel suggested the victim go to the hospital to get stitches in his hand. Edwards took a statement from Betty Rice and Conrad told the court what she said.
Betty Rice was ordered to have no contact with the victim and said she would hire her own attorney.