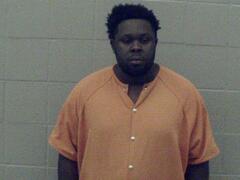 By Ray King
A $25,000 bond was set Monday for a Jefferson County man accused of trying to bring contraband into the adult detention center where he worked.
Pine Bluff District Judge John Kearney set the bond after ruling prosecutors have probable cause to charge Joshua Brown, 22, with furnishing prohibited articles, possession of a controlled substance with the purpose to deliver, and simultaneous possession of drugs and firearms.
Reading from an affidavit from Tri-County Drug Task Force Investigator Joseph O'Neal, Deputy Prosecutor Beth Carson said at 6:10 p.m. Friday, O'Neal received a call from Sgt. Courtney Kelly said he had gotten a call from the adult detention center that said there was a strong odor of marijuana coming from detention center officer Brown when he reported for work.
O'Neal reported that deputies searched Brown's car in the north parking lot, they found a handgun with one round in the chamber and 12 in the magazine on the passenger side floorboard.
Brown was interviewed and Carson told the court what he said.
Brown was told to come back to court on Nov. 9.