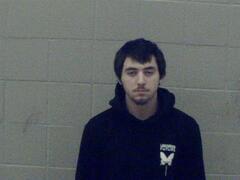 By Ray King
A Fordyce man was arrested Thursday after allegedly being involved in an altercation with a man at White Hall.
Nathan Marlow, 22, was taken into custody after police responded to a reported battery at a house on Anderson Avenue, Deputy Prosecutor Jill Reed said during a court hearing Friday.
Reading from an affidavit by White Hall Police Maj. Mickey Buffkin, Reed said while officers were enroute to the disturbance, they received information that the suspect, later identified as Marlow, had run from the residence and was eastbound on Anderson Avenue headed toward Dollarway Road.
Reed said Marlow is currently on probation in Nevada County on charges of aggravated assault and terroristic threatening and has pending charge of interference with custody and interference in an emergency situation stemming from another domestic incident.
Because of that, Pine Bluff District Judge John Kearney set a $25,000 bond for Marlow after ruling prosecutors have probable cause to charge him with second-degree battery. Marlow was ordered to have no contact with the victim until the case is settled.