By Ray King
A 19-year-old Pine Bluff man was arrested Monday after he allegedly beat his five-year-old sister.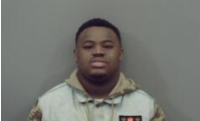 Djerrick Jenkins was taken into custody after he was interviewed by police Detective Michael
Merritt.
Deputy Prosecutor Caleb Conrad said police received a report of child abuse on Jan. 22 and the child was taken to the Children's Advocacy Center where she was interviewed.
Conrad said the child was taken to Arkansas Children's Hospital and has been removed from the house because of the abuse. Reported injuries included bruises on the arms, a red mark on the abdomen, old scars and bite marks on the legs.
Jenkins was interviewed on Monday and after waiving his rights, he initially said he did not know anything about the injuries, but later in the interview said,
A $5,000 bond was set Wednesday for Jenkins on probable cause of second-degree domestic battery.
Jefferson County District Judge Kim Bridgforth appointed the Public Defender's Office to represent Jenkins and ordered him to have no contact with the victim until the case is settled.