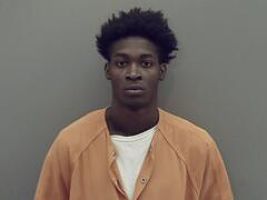 By Ray King
A $15,000 bond was set Thursday for a Pine Bluff man accused of injuring his girlfriend during an altercation Tuesday.
Pine Bluff District Judge John Kearney set the bond after ruling prosecutors have probable cause to charge Raymond Johnson, 22, with second offense third-degree domestic battery, a Class D felony.
Johnson was previously convicted of misdemeanor aggravated assault on a family or household member in 2019.
Reading from an affidavit from Detective Corey Wilfong, Deputy Prosecutor Caleb Conrad said an officer was sent to the Arbor Apartments at 3120 S. Fir St., in response to a reported disturbance and when the officer arrived, saw a male and female arguing. The affidavit said the two continued to argue, curse and scream at each other and the officer noticed that both had bruises on them.
Conrad said the female had a busted lip and bruises on her shoulders and knees and the male, later identified as Johnson had bruises on his hands and fists and bite marks on his head and chest.
Wilfong interviewed the female and Conrad told the court what she said.
When Johnson was interviewed, he said he did push the female several times in the breast area and said it was possible he touched her neck and shoulders while pushing her.
Johnson was ordered to have no contact with the female until the case is settled.