By Ray King
A reported burglary and the theft of a vehicle in two separate incidents will require a Jefferson County man to post $100,000 in cash-only bonds to be released from the adult detention center after a court hearing Tuesday.
In one case, Jefferson County District Judge Kim Bridgforth ruled prosecutors have probable cause to charge Hunter Reynolds, 24, with commercial burglary. In the second, she ruled prosecutors have probable cause to charge him with theft by receiving.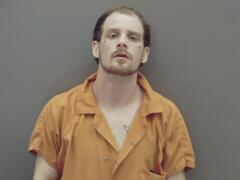 Deputy Prosecutor Caleb Conrad describes the circumstances that led to the burglary allegation.
Detective Corey Wilfong reported that the owner of the business said he had received an alert on his cell phone and when he went to check the business saw the vehicle with a white male and white female sitting in it. He said he called 911 and tried to hold the male at gunpoint until police arrived but the male, later identified as Reynolds, ran.
The female said she and Reynolds parked behind the business and Reynolds told her to get into the driver's seat. She said she did not, and Reynolds went up to the business before running back. She said when the owner of the business approached them, Reynolds ran and left her.
Wilfong reported that when Reynolds was arrested Sunday, he tried to speak to Reynolds, but Reynolds refused to talk.
Regarding the theft by receiving the allegation, Sheriff's Investigator Charles White reported that he, Captain John Bean and Major Gary McClain was patrolling Dollarway Road when they saw a black Dodge Nitro with no license plate and attempted a traffic stop.
A check of the vehicle identification number of the Dodge showed that it had been reported stolen in Pine Bluff.