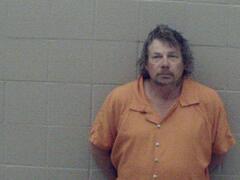 By Ray King
A $10,000 bond was set Friday for a Pine Bluff man accused of stealing wire from railroad tracks belonging to Union Pacific.
Jefferson County District Judge Kim Bridgforth set the bond after ruling prosecutors have probable cause to charge Ronnie Chastain, 53, with theft of property.
Reading from a probable cause affidavit from Detective Keith Banks, Deputy Prosecutor Lisa McGriff said a railroad employee came to the police department Thursday morning to report the theft.
Banks reported that detectives received a call from a Union Pacific Police Officer who reported that the suspect in the thefts might be at the Saracen Casino and he and Detective Chris Wieland went to the casino where they located Chastain coming out the door. He was wearing the same cap and had the same tattoos as the person in the pictures provided by the railroad.
McGriff said when Chastain was questioned, he admitted taking the wire for scrap. She said he currently has a warrant for failure to appear on felony drug charges in North Little Rock and Hot Check warrants from Jefferson County.
The Public Defender's Office was appointed to represent Chastain.