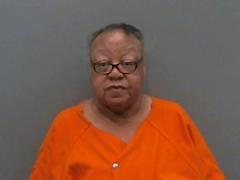 BY: RAY KING
A Jefferson County woman accused of shooting her husband to death Saturday told sheriff's deputies she and her husband got into an argument because he wanted to have sex and she didn't.
Ella Mae Simmons, 70, she went first into a bedroom and then a bathroom and he husband, Robert Simmons, 69, followed her and called her names. She said she then went into the dining room and Robert followed with him standing on one side of a table and her on the other, adding that when he started toward her, she picked up a .357-caliber handgun off the table and fired one shot.
"Robert did not go down so she fired another shot and Robert fell to the floor and did not move," Sheriff's Lt. John Bean said in a probable cause affidavit that was presented in district court Monday. "Ella stated she shot Robert was not going to get his hands on her."
Robert Simmons was pronounced dead at the scene at 7:55 p.m. by Deputy Coroner April Davis. The cause of death was listed as gunshot wounds to the upper body. Coroner Chad Kelley said the body was sent to the State Medical Examiner's Office at Little Rock for an autopsy.
The shooting occurred at 10242 Princeton Pike and when the initial deputy arrived, he found Robert Simmons lying in the floor between the dining room and kitchen.
When the deputy, Riley Ramirez asked Ella Simmons what happened, she reported said "I shot him because he tried to run me over."
According to the affidavit, Ella Simmons said she did not know how many times she fired the gun knew it was at least twice. She said she keeps the handgun loaded with six rounds and when deputies obtained a search warrant, they seized the gun and found five spent shell casings and one live round.
On Monday, Pine Bluff District Judge John Kearney set a $250,000 bond for Ella Simmons after ruling prosecutors have probable cause to charge her with first-degree murder.