The Arkansas River at Pine Bluff continues to rise, with an expected near-record crest coming tomorrow. Water is already surrounding homes at Island Harbor, and the worst is yet to come. Officials are beginning to become concerned about the Packing Town area in north Pine Bluff.
The river level stood at 44.5 feet Tuesday afternoon at Pine Bluff. Flood stage is 42 feet. The river is expected to crest just above 49 feet on June 5. Island Harbor, Riverside Drive and other areas in Pine Bluff along the river are flooding. Regional Park, Knotts Island, Wright-Pastoria and Trulock Bay are flooding as well.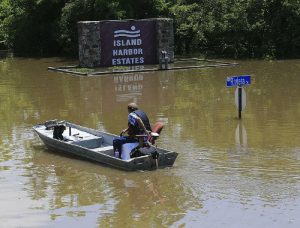 Robinson specifically mentioned Packing Town on the extreme northeast part of Pine Bluff as an area that might see a lot of water from the flooding, and he encouraged members of the Rotary Club to help in any way they can, particularly by donating to the Salvation Army and the Red Cross. "If you have a heart for giving, the time is now," Robinson said. "It's going to be terrible. A lot of water and no place for it to go. This is what's going to cause us, when this is over, to go back to the drawing board and reevaluate the levee system. To take a second look at it."
In response to the historic flooding forecasted to impact communities along the Arkansas River, the Arkansas Red Cross has opened shelter at the following shelter locations: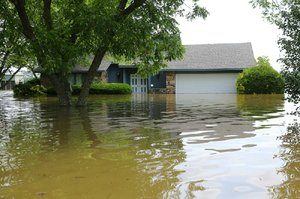 Red Cross operated shelters:
Evangel Temple, 1110 South 12 Street, Fort Smith, AR
Dardanelle Community Center, 2011 State Highway 22, Dardanelle, AR (temporary pet shelter available at Yell County Fairgrounds)
River Park Church of Christ, 1010 Lock and Dam Road, Russellville, AR
Don Owens Center, 10 Lower Ridge Road, Conway, AR (location includes a temporary pet shelter provided by the Faulkner County Animal Response Team)
North Little Rock Community Center, 2700 Willow Street, North Little Rock, AR
Southeast Arkansas College-Seabrook (Old YMCA), 6808 Hazel Street, Pine Bluff, AR
Red Cross supported shelter locations:
Dyer Community Building, 325 Loomis Lane, Dyer, AR
Swan Lake Fire Station, 14997 Hwy 88 S., Altheimer, AR
Wright/Pastoria Community Center, 8550 Surrat Rd, Wright, AR
Independent shelter locations:
First Baptist Church-Lavaca, 100 West Main, Lavaca, AR
Identification and/or proof of residency is NOT required to be admitted to a Red Cross shelter. Individuals and families are encouraged to bring the following items with them:
clothing for a few days
bedding
toiletries
essential medication
a child's stuffed animal, blanket or other items for your children
Anyone who needs to find a shelter may visit redcross.org/shelter, download the free Red Cross Emergency App or call 1-800-REDCROSS (1-800-733-2767). The Emergency App is available in app stores by searching for the American Red Cross or going to redcross.org/apps.
To volunteer to assist with this disaster or future disaster, please go to redcross.org.