MONTICELLO, Ark. — Padraic McMeel, Director of Athletics has announced the addition of two new members to the University of Arkansas at Monticello Weevils staff – Cody Jones, Assistant Athletics Director for Game Operations and Facilities, and Ben Matos, Assistant Athletics Director for Athletics Communications.
"I am excited for Cody and Ben to join the UAM Athletics family," said McMeel. "During my first few months at UAM, it was evident that we need to promote our UAM athletics programs more consistently while providing the best game experience we can for our 10 athletic programs, student-athletes, coaches and fans. They are tremendous fits for UAM athletics and will hit the ground running. They will do great things for our student-athletes and coaches!"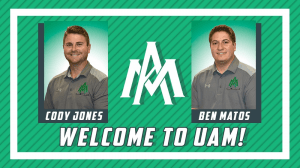 Jones joins the Athletics Department as the Assistant Athletic Director for Game Operations and Facilities. He will oversee gameday operations for all UAM athletic events and day-to-day operations of facilities.
Jones, a native of Phoenix, Arizona, joins the Boll Weevils after spending three years at the University of West Florida as the graduate assistant for game operations and facilities. There, he was responsible for facility maintenance and assisting in event logistics for 15 varsity sports, and managed an event staff of over 20 student workers.
During his time at UWF, Jones worked as the Tournament Manager at several postseason events, including the 2017 Women's NCAA Volleyball Championships, 2017 Women's NCAA Softball Super Regional and Regional, 2018 Women's NCAA Soccer Regionals, 2019 Women's NCAA Softball Regionals and Super Regionals, the 2019 Women's Softball GSC Tournament, and several Women's NCAA Volleyball GSC Championships. He also worked closely with administrators implementing gameday operations and logistics with a newly introduced football program.
Prior to UWF, Jones was hired at D-BAT-Peoria as a Facilities and Sales Lead to implement new business strategies. Before D-BAT, Cody worked with the Arizona Diamondbacks and Colorado Rockies at Salt River Fields as an intern in stadium operations.
Jones received his bachelor's degree in sport management from Henderson State University in 2015. As an undergraduate, he was a baseball student-athlete and contributed to a semi-final run at the 2015 NCAA Division II National Championships. During his time at Henderson State, he worked in game operations and was the recipient of the 2015 Great American Conference Degree Completion Award.  He received his master's degree in Business Administration at The University of West Florida.
"I am truly humbled and honored to have the opportunity to join the UAM team and help assist athletics under the guidance of Athletic Director Padraic McMeel," said Jones. "I look forward to working with the coaches, student-athletes, the University, the city of Monticello, and carrying on the rich traditions of The University of Arkansas at Monticello".
Matos joins the UAM Athletics staff as the Assistant Athletic Director for Athletics Communications. He will be tasked with leading the communications efforts for UAM's 10 sports while also serving on the athletics leadership team.
Matos, a native of Stroudsburg, Pennsylvania, spent the majority of the last six years working in the athletic communication office at Slippery Rock University in Pennsylvania, first as an undergraduate student-worker while he pursued his bachelor's degree in sport management. Following a full-time internship with the Indianapolis Indians, the AAA affiliate of the Pittsburgh Pirates, he returned to Slippery Rock in 2017 and spent the last two years as the athletic communication graduate assistant. He earned his master's degree in parks and conservation management in May.
While at Slippery Rock, Matos served as the primary communication contact for the men's and women's soccer teams and the softball team. He also became the voice of the Rock Athletics Digital Network, providing the play-by-play commentary for nearly all of the SRU video broadcasts over the last two years. Matos was honored with eight national awards during his two years as the graduate assistant and helped the athletic communication office earn a total of 50 awards during that span, more than any other office in the nation.
"I'm excited for this opportunity and I want to thank Padraic McMeel and the administration at UAM for trusting me to lead their communications office," said Matos. "I am happy to be a part of such a close-knit group that is taking great strides toward improving the promotion of the University's athletic programs."
Along with Jones and Matos, Dana Weast will be the administrative assistant for the athletics department. She joins the athletics staff after two years with the University.