The International Association of Fire Chiefs has announced that Pine Bluff Fire and Emergency Services Battalion Chief Harold Clark Jr. has been accepted into the Fire Service Executive Development Institute. Clark competed with new fire chiefs and chief officers from across the country and Canada to become a member of the 2019 cohort program, according to a news release.
Along with being accepted into the program, Clark has been awarded a scholarship that covers the expenses for attending the program. Clark is an Arkansas native who started his fire service career with Pine Bluff Fire and Emergency Services in July of 2000.
Pine Bluff Fire Chief Shauwn Howell said in the news release: "Chief Clark is a dedicated, loyal and invaluable employee of the. I am very proud and supportive of what he has accomplished and continues to achieve in his career. I sincerely admire his desire to obtain professional development opportunities that enhance himself, PBF&ES and the community he loves and has served for nearly two decades. There is no doubt in my mind that one day he will be selected as a Fire Chief to lead a department of his own."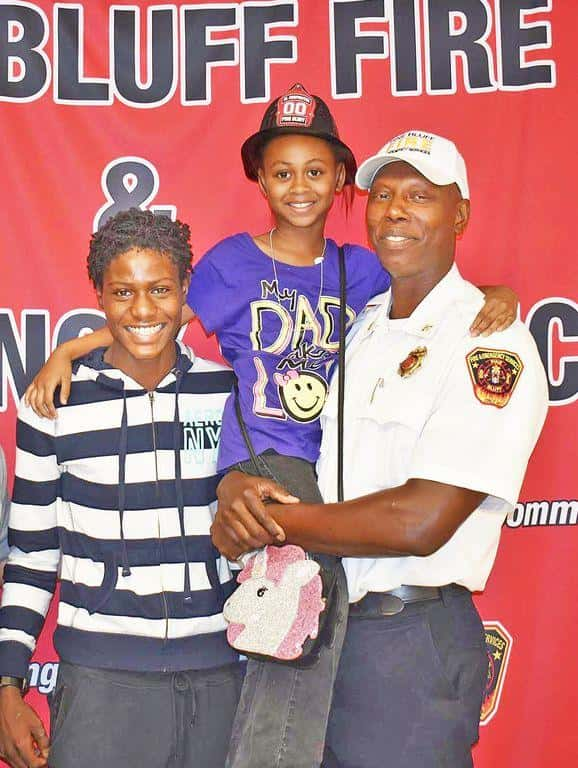 Clark started out as a firefighter and was one of the first emergency medical technicians in the department. He has had increasing rank and responsibilities with the department throughout his career.
Clark is a 1992 graduate of Watson Chapel High School. He holds a master's degree in public administrations from Webster University, a Bachelor of Arts degree in criminal justice from the University of Arkansas at Pine Bluff and an Associate of Applied Science Degree in Fire Science from Southeast Arkansas College.
He is a 2010 graduate of Leadership Pine Bluff, a 2015 graduate of the Federal Bureau of Investigations Citizen's Academy and a 2016 graduate of the Carl Holmes Executive Development Institute.
Clark has numerous certifications, such as:
▪ Emergency Medical Technician
▪ Hazardous Materials Technician
▪ CPR Instructor
▪ EMT Instructor
▪ Certified Fire Investigator
▪ Certified Specialized Law Enforcement Officer
▪ Homeland Security Liaison Officer
Clark was Pine Bluff Fire and Emergency Services' second public information officer and liaison to the fire chief. He currently serves as an adjunct Instructor for the Arkansas Fire Academy, and is a member of the Pine Bluff Chamber of Commerce, Fraternal Order of Firefighters, Arkansas State Firefighters Association, Alpha Phi Alpha Fraternity Inc., Delta Mu Delta, NAACP, Toastmasters International, Black Chief Officer's Committee, and the International Association of Black Professional Firefighters. Also, Chief Clark is a board member of the Jefferson County Drug Court, Criminal Justice Advisory Board, Pine Bluff Parks & Recreation Advisory Board, and a member of the Chamber of Commerce Chairman's Club.
This is the seventh year that the Motorola Solutions Foundation has provided the IAFC with a grant to fund the program.
"The Motorola Solutions Foundation recognizes the critical role of fire chiefs at the regional, state and national level," Matt Blakely, executive director of the Motorola Solutions Foundation, said in the news release.
"We remain committed to supporting the education and development of emerging leaders in fire service to ensure they are successful in protecting the communities they care about."
The Fire Service Executive Development Institute is a year-long leadership-development program created and implemented by the IAFC to provide new and aspiring chiefs with the tools they need to have successful and productive tenures. The members of the cohort will meet in January 2019 for their first six-day session in addition to two other sessions scheduled six months apart.
The group will communicate between sessions using an online community.