Pine Bluff Aquatics Center is scheduled to open June 29th and will be the first community pool inside the Pine Bluff city limits in more than a decade. Center officials are in their final push toward opening.
The center will feature AquaBikes and other attractions to help with aqua therapy. The center will also work with the Jefferson Regional Medical Center Wellness Center to help with the therapy. "We will be the only facility in the state with AquaBikes," says director T.R. Santos. "We will be one of the only facilities with them in this part of the country as well. This is something you see more of in California, so you won't see them in Missouri, Tennessee, Louisiana or anywhere else in the area."
The Aquatics Center will host its first swim meet on July 13th, a feat that wasn't expected to happen so early in the beginning. The facility will have 11 teams coming in.
Director Santos said that the Pine Bluff Aquatics Center will be one of the nicest centers in the entire state. One-day rates for the center will cost $5 per person.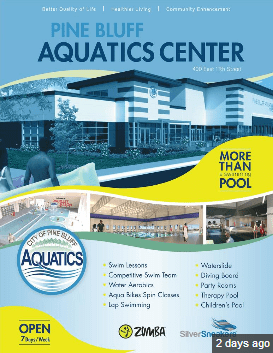 A one-month membership will cost $30 per person, or $50 for a family, while a three-month membership will cost $85 per person, or $135 for a family. A six-month membership will cost $160 per person, or $270 for a family, and a one-year membership will cost $300 per individual, or $480 for a family. They will also have party rooms, swim meets, swim teams, Water in Motion, Zumba and spin classes, and swimming lessons are available at an additional cost.