Arkansas Earns Host; Faces UALR in NCAA First Round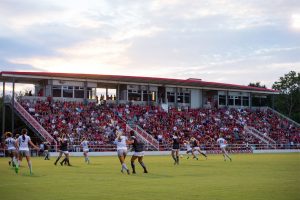 FAYETTEVILLE, Ark. —  For the fifth time in six years, the Arkansas soccer team is among the 64 teams that were selected Monday afternoon to compete in the 2018 NCAA Division I Women's Soccer Tournament. Arkansas earned a host bid and will play its first-round matchup against Sun Belt-champion Little Rock at Razorback Field. Game time is slated for Friday at 7 p.m. and will be streamed on SEC Network+ via the Watch ESPN app and WatchESPN.com.
Tickets are now available through the Razorback Ticket Office. Adult tickets are $8, while kids 17 and under are $3. All University of Arkansas students with their student ID will be admitted free to the match. All patrons in attendance must have a ticket regardless of age for NCAA events. Tickets can be purchased in advance online, by contacting the Razorback Ticket Center at 479-575-5151, or at the north entrance of Razorback Field beginning at 5:30 p.m. on game day.
This is the second time in school history that Arkansas has been selected as a host site for the first round of the NCAA Tournament. Razorback Field last played host in 2016 when Arkansas took on Memphis and won a 2-1 thriller in overtime.
Arkansas (13-4-4) is coming off its third-straight SEC Tournament final appearance and fifth in school history as it padded its postseason resume with neutral site wins over Ole Miss and Florida last week. Arkansas is one of nine teams from the SEC that made this year's NCAA field, joining Ole Miss, Texas A&M, Tennessee, South Carolina, LSU, Auburn, Vanderbilt and Mississippi State.
This will be Arkansas' fifth all-time appearance in the NCAA Tournament, all under Hale. In its history, the Razorbacks are 4-2-2 in NCAA Tournament games and has made it to the second round four out of five times. Including SEC Tournament games, Arkansas is 11-6-5 in postseason matches under Hale.
Little Rock enters the NCAA Tournament at 14-4-3 on the year and won the Sun Belt Tournament championship last week after defeating regular-season champion Texas State in penalty kicks. This will be the first appearance in program history for the Trojans and the Sun Belt title was their first conference championship.
From The Razorbacks
"Getting a chance to host is big for a lot of reasons. First, we just got off the road after eight days, so we need to sleep in our beds for a little bit. Not having to travel will be big from a competitive standpoint will be huge, but we're also 9-0-1 at home this year. We know how big our fans are and how big of a home field advantage this is. I can't imagine anyone was hoping for the 'at Arkansas' draw. Little Rock is a really good team that won their conference and our team does really well at home. I'm really looking forward to it." – Head coach Colby Hale on hosting the NCAA First Round against Sun Belt-champion Little Rock
"We're our best when we're at home. We're just excited that we're playing at home for the first round and this is the second ever that we're doing it. We can't dwell on the past. It's important to move forward and everyone is excited for a chance to get started and make a run at it." –  Senior Carly Hoke on being able to move past the SEC Tournament and playing at home to start the NCAA Tournament
"Our fans really bring a lot of energy to our games. We really feed off of that when things are or aren't going our way. To have the opportunity to play at home again is something we're looking forward to. I think this is going to create a really cool atmosphere and I'm really looking forward to seeing what it will be like." – Senior Carly Hoke on what makes playing at home so special
"It is really cool, but we're also getting to the point where it's expected a little bit. We're starting to get the reputation that we're going to be in the tournament every year and hopefully hosting every year. It's really cool to be able to do it in front of our fans one more time because we have the best fans in the country. We're undefeated at home right now, so we're looking forward to it. We're just looking it at as one game at a time. You're not going to the next round unless you win the first round. So that's how we'll approach it and, hopefully, go as far as we can." – Junior Kayla McKeon on getting a chance to host at home in the NCAA First Round
BY John Thomas