The Department of Music at the University of Arkansas at Pine Bluff (UAPB) will present the Vesper Choir in the 65th annual presentation of Handel's "Messiah" on Sunday, December 2.
The free, public event will take place at 3:00 p.m. in the J.M. Ross auditorium of the Hathaway-Howard Fine Arts Building.
The Vesper Choir will be assisted by members of the UAPB Concert Bands and Wind Symphony along with guest string and woodwind players from Central Arkansas and Memphis areas. This annual event marks the beginning of the Christmas celebration on UAPB's campus.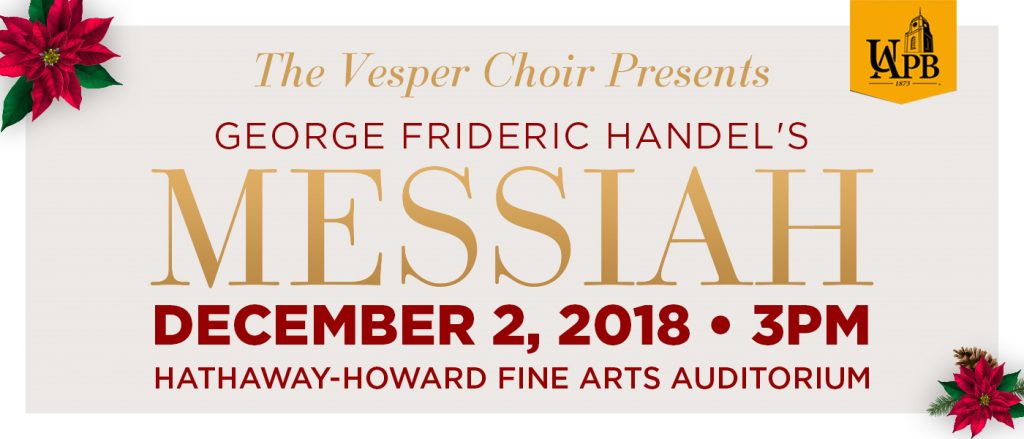 Jerron A. Liddell, Interim Director of the Vesper Choir, will conduct his inaugural performance as the fourth director in the choir's 70-year history. His appointment follows the retirement of Dr. Michael J. Bates, who served as director for nearly 20 years.
Liddell is a UAPB and Vesper Choir alumnus and has served as featured soloist, guest conductor, and Music Assistant during his tenure with the organization.
John Graham, Jr., Director of Bands, will serve as Assistant Conductor for the performance. Liddell is also assisted by Andee Book, Voice Instructor and Assistant Director of the Vesper Choir, and Julia Buckingham, Accompanist and Adjunct Instructor.

Guest alumni soloists include: Leon Walker, tenor, Kansas City, MO; Duane Jackson, bass, choral director in the Pine Bluff School District; Stephan Burse, tenor, Philadelphia, PA; and Robin Roberts, alto, Atlanta, GA.
Featured student soloists include: Ya'Shontae Joyner-Holt, soprano, Moscow, TN; Mary Rowe, soprano, Dermott, AR; Kennedi Brown, soprano, Monticello, AR; Kayla Slater-Cooke, alto, Detroit, MI; Ricky Wade, baritone, Clarksdale, MS; Evan Murry, bass, Pine Bluff, AR; and Gregory White, baritone, Kansas City, MO.
Dr. Demarr Woods, Assistant Professor of High Brass and Music Theory, will be the featured trumpet soloist.
Members of the orchestra include: Judy Warner, adjunct instructor in the UAPB Music Department; Donna Lee-Thomas, alumna and music instructor in the Pine Bluff School District; and Tim Clark, alumnus and music instructor in the St. Louis School District.
For more information about the event, please call the Department of Music at (870) 575-7001.