UAPB to host Golden Lion Pride Walk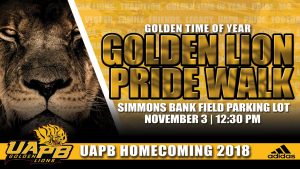 PINE BLUFF, Ark. – The University of Arkansas at Pine Bluff Department of Athletics will host a Golden Lion Pride Walk on Saturday, November 3 at 12:30 p.m. for the UAPB Golden Lions football team.
The walk will start at the entrance of the Simmons Bank Field parking lot on University Drive and will end at the J. Thomas May Field House. A similar walk was held in previous years at UAPB but hasn't been done in years, so new administration decided to implement the new tradition for Homecoming. All fans are invited to cheer on the Golden Lions football team as it walks through the parking lot to the field house.
"As we begin to build pride in our athletic program, especially with our football program, we want to make sure that we are getting everybody excited," said new UAPB Director of Athletics Melvin J. Hines II. "We want people excited about homecoming, excited about football, and excited about UAPB athletics in general. So the best way to get people excited is to continue the parade from downtown, to come parade on campus and celebrate our young men as they get off the bus and get ready to walk into the lion's den so they can take care of their business on Saturday's."
The UAPB Department of Athletics will now host a Golden Lion Pride Walk before every home football game at Simmons Bank Field.
"It's just about the excitement and the joy of getting those young men prepared to go represent our great university," said Hines II.
Kickoff for Saturday's Homecoming game against Alabama A&M is set for 2:30 p.m. at Simmons Bank Field. A special Senior Day football celebration will begin shortly after 2 p.m. inside the stadium.
article from uapblionsroar.com