UAPB slips up on Homecoming with 45-14 loss to Alabama A&M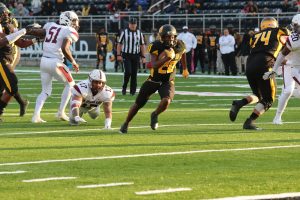 PINE BLUFF, Ark.
– The University of Arkansas at Pine Bluff Golden Lions dropped its homecoming game by the score of 45-14 against the Alabama A&M Bulldogs at Simmons Bank Field in Southwestern Athletic Conference action.
Game Notes
-Arkansas Governor Asa Hutchinson was a special guest for the coin toss
-The Golden Lions honored 19 seniors as they played their final game at Simmons Bank Field
-UAPB running back Taeyler Porter, the SWAC's leading rusher, ran for just 40 yards after topping 100 yards in four straight games
-The score was tied 0-0 at the end of the 1st quarter
-UAPB freshman quarterback Skyler Perry, who was just named to the STATS FCS Jerry Rice Watch List, completed 23-of-37 passes for 232 yards and one interception
-Perry's 3-game streak of two or more touchdown passes came to an end tonight (0 TD passes)
-The Golden Lions produced a total of 19 first downs while its opponent managed 26
-UAPB trailed 14-0 at halftime
-The Bulldogs scored 21 points in the third quarter to pull away for good
-The Golden Lions could not move the chains as the team went 3-for-17 on third down conversions
-Nearly 1,000 yards of offense was generated in the contest as Alabama A&M finished with 618 yards while  UAPB had 378
-Alabama A&M quarterback Aqeel Glass completed 21-of-42 passes for 359 yards and three passing touchdowns and one interception
-The UAPB defense sacked Glass four times in the game
-UAPB freshman wide receiver DeJuan Miller finished the game with six receptions for 106 yards
-UAPB junior wide receiver Kolby McNeal finished with a game-high 10 catches for 60 yards
-Redshirt sophomore Tyrin Ralph hauled in four receptions for 37 yards
-Bulldogs running back Trevon Walters rushed 12 times for 152 yards and one touchdown
-UAPB defensive back Shawn Steele finished with a game-high 15 tackles, including three tackles for loss, with one sack and one interception
-Golden Lions senior linebacker Je'Kevin Carter finished with eight tackles and one sack
-UAPB defensive end Jalen Steward added five tackles to go along with one sack
-Golden Lions senior punter/kicker Jamie Gillan knocked down two field goals in the second half; one from 42 yard and one from 38 yards
-Attendance was marked at 13,500 for the first homecoming game at Simmons Bank Field
UAPB (1-8, 0-5 SWAC) returns to action on Saturday, November 10 as it travels to Louisiana to face Southern University in SWAC action. Kickoff is set for 4 p.m. at A.W. Mumford Stadium.
special thanks Habtom Keleta