Razorbacks Total 13 All-America Honors, 3 First-Team Accolades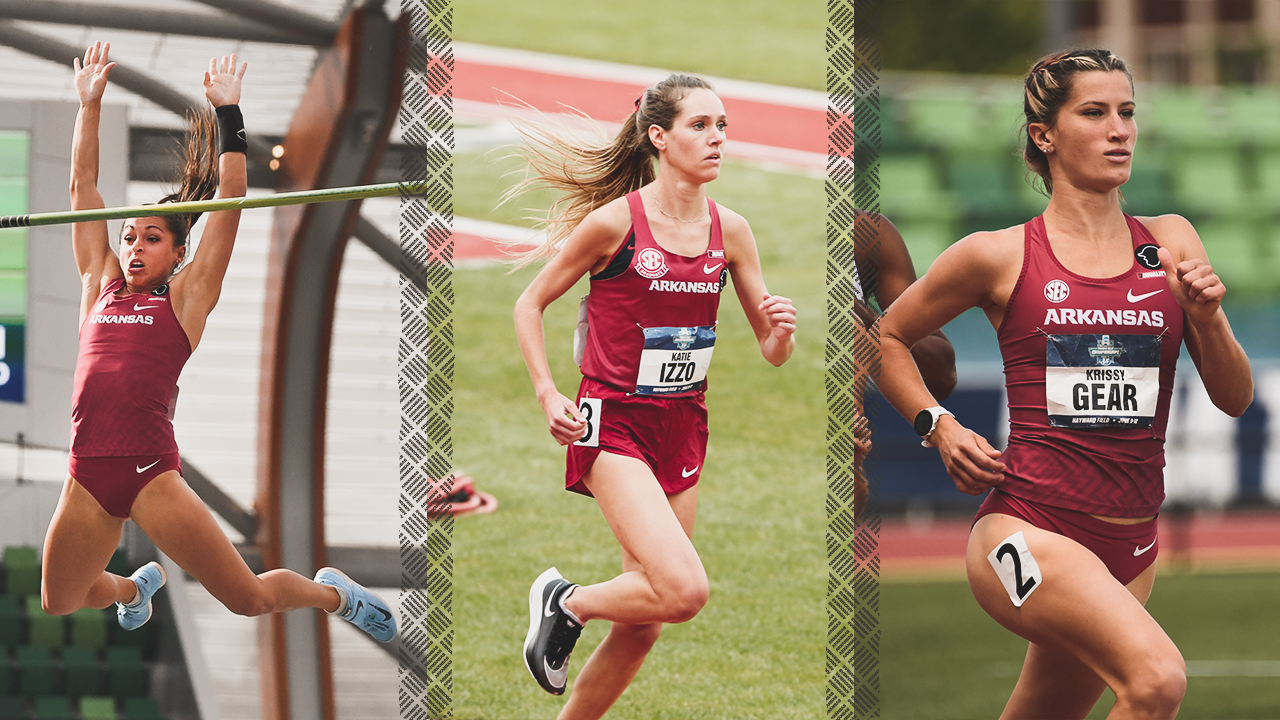 SHAWN PRICE
NEW ORLEANS, La. – Arkansas collected 13 All-America honors from the NCAA Outdoor Championships held this past weekend at the University of Oregon. Three Razorbacks earning first-team honors included Lauren Martinez, Katie Izzo and Krissy Gear while Arkansas had 10 second-team honors.
Martinez was a silver medalist in the pole vault while Izzo finished fourth in the 10,000m and Gear placed fifth in the 1,500m. Athletes finishing among the top 8 in each event earned first-team status.
Among the 10 second-team accolades, for placing ninth to 16th in the NCAA meet, were a pair of Razorbacks who earned the honor twice – Jada Baylark and Shafiqua Maloney. Also receiving second-team honors were Morgan Burks-Magee, G'Auna Edwards, Daszay Freeman, Mackenzie Hayward, Bailee McCorkle, and Paris Peoples.
Three Razorbacks were recognized with honorable mention in two events – Baylark, Jayla Hollis, and Yoveinny Mota. Also receiving honorable mention were Lauren Gregory and Tiana Wilson.
2021 All-America – NCAA Outdoor
| | |
| --- | --- |
| First Team | 3 |   |
| Krissy Gear | 1,500m |
| Katie Izzo | 5,000m |
| Lauren Martinez | Pole Vault |
| | |
| Second Team | 10 |   |
| Jada Baylark | 200, 4×400 Relay |
| Morgan Burks-Magee | 4×400 Relay |
| G'Auna Edwards | Long Jump |
| Daszay Freeman | 100m Hurdles |
| Mackenzie Hayward | Pole Vault |
| Shafiqua Maloney | 800m, 4×400 Relay |
| Bailee McCorkle | Pole Vault |
| Paris Peoples | 4×400 Relay |
| | |
| Honorable Mention | 8 |   |
| Jada Baylark | 100, 4×100 Relay |
| Lauren Gregory | 5,000m |
| Jayla Hollis | 100m Hurdles, 4×100 Relay |
| Yoveinny Mota | 100m Hurdles, 4×100 Relay |
| Tiana Wilson | 4×100 Relay |