The latest in a series of local Town Hall Meetings hosted by Pine Bluff Mayor Shirley Washington featured a conversation between Chief John Berrey of the Quapaw Tribe and the public.  This event took place on Monday night at the Pine Bluff Convention Center. Job opportunities, the timeline of events leading to the opening of a proposed casino, the casino's design, location and Berrey's commitment to the public schools were topics that were discussed.
Berrey is the chairman of Downstream Development Authority, which has been selected by leaders in Jefferson County and Pine Bluff to operate a casino here.
Last month, Arkansas voters approved Issue 4 by a 54 percent to 46 percent margin. The new constitutional amendment grants casino licenses to existing Arkansas institutions Oaklawn Park in Hot Springs and Southland Park in West Memphis, and it provides for new licenses to be granted in Jefferson and Pope counties. The Arkansas Racing Commission is required to formally declare rules for the state's new casino gaming structure by no later than March 14.
Berrey said there are no definite plans to announce at this time as he is waiting to receive a license from the Arkansas Racing Commission. He said he has completed the application and is now waiting for the commission to do administrative work. He said the announcement of the location will follow receipt of the license and the completion of their due diligence of the land they are hoping to buy.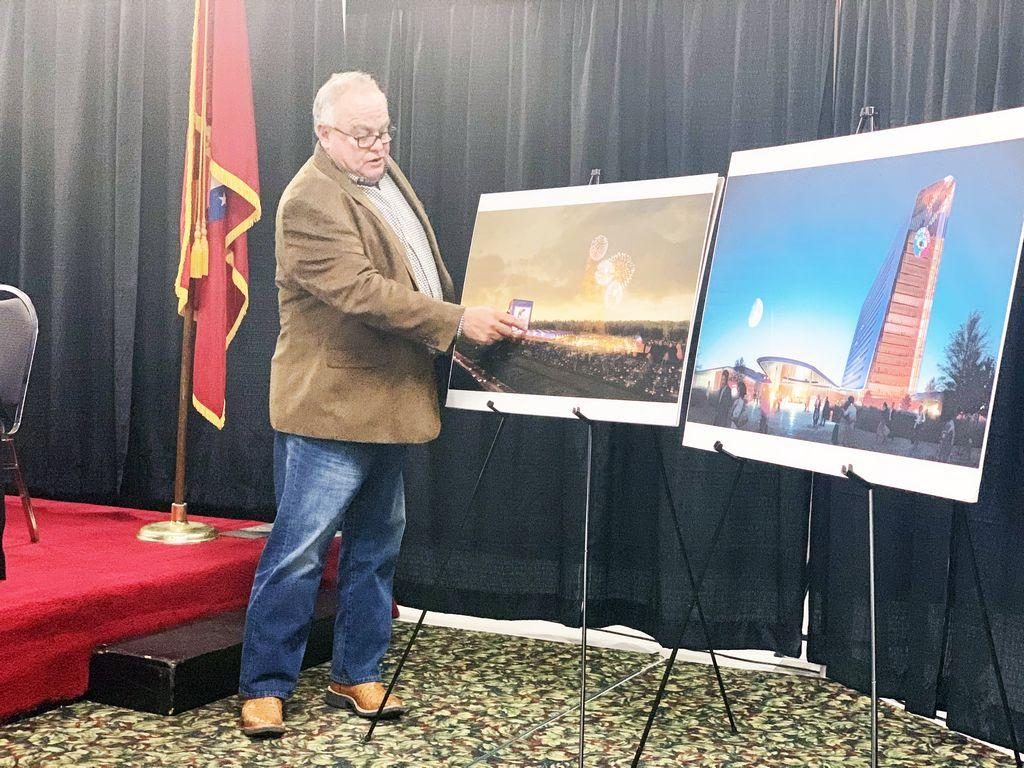 "I'd tell you where it's going to be located but we are not one hundred percent," Berrey said. "We have some options on some land, but we must do some geotechnical investigation on the property to find out how far it is to the bedrock and if the different pieces of property are adequate for supporting a facility. We have to be aware of the environmental issues and the stormwater rotation plan and everything that goes with a large structure with a large parking lot."
Berrey said he wants to start moving dirt immediately after receiving the gaming license. He said his plan now is to be proactive in getting people signed up and trained. He said he has met with Southeast Arkansas College, the University of Arkansas at Pine Bluff and Go Forward Pine Bluff regularly to coordinate job and vendor fairs to assist in having people readily available to work.
"Right now, we're looking at the 18th and 19th of this month to decide on a general contractor and an architect firm," Berrey said. "These drawings were designed by Marlon Blackwell from Fayetteville. He has agreed to be our creative designer, but the need for hundreds and thousands of documents for construction, they're too busy for that so we're going to interview some larger architect firms to do the actual construction documents."
Berrey said they have begun interviewing general contractors and architects, and in the package that is being sent out to the prospects there are some conditions and demands, one of which is they must buy and hire local.
"There are going to be some trades and some activity that probably exceeds some of the skillsets and the abilities, including the bonding and stuff like that for local guys, but we really want to integrate who is in the community that has the resources, abilities, the skills and the want-to to be a part of the construction from the get-go."
Third Ward Alderman-elect Ivan Whitfield asked Berrey about job opportunities for residents for dealing positions.
"If you came in six months from now and you looked at a resume not many are going to say I've had experience in dealing," Whitfield said.
Berrey said a school is maintained at their current casino, Downstream, in part due to the number of people that cycle in and out of the position, and in part because the training tables are regulated by the racing commission.
"We'll have regular training classes for our table games because in some ways we like to be the people that train someone rather than someone coming in from Las Vegas or somewhere and they were trained by someone else in a different jurisdiction," Berrey said.
Berrey said everyone who works at the casino resort will be trained according to the organization's standards, along with receiving the benefits of matched 401k, a health insurance plan that can be subsidized, subsidized employee dining, uniform cleaning, an active clinic for employees and their families and subsidized daycare.
"Sixty-five of our day-one employees are still with us today," Berrey said. "That's because we try to treat you with respect. We want the eight hours you put in (to) be the best part of your day. We know that some days will be a struggle, especially if you have children or children with some needs. Since we pay for the benefits, we try to support our employees not going to the emergency room if they don't feel good. We want them to go (to) the clinic and take their kids."
Maurice Taggert, executive director of the Pine Bluff Urban Renewal Agency, asked Berrey if he could make a commitment to the public schools in the form of a scholarship. Berrey said his commitment is to provide protein and supplies and needs that are in shortfall because of state funding. Berrey said making a commitment means more than just saying he will give a scholarship.
"Am I willing to commit to being open to working on some scholarships, yes sir I am," Berrey said. "I don't think just saying we're committed to making a scholarship is a commitment at all. What I am committed to do is have the conversation and providing the opportunity. I think you are underestimating the value in providing protein to young kids that don't have it at home. There are a lot of kids in our public schools that don't have a good diet. I think that's a long-term commitment as well."
As a part of his partnership with local law enforcement, Berrey said he plans to have a police sub-station on site. Pine Bluff Police Chief Kelvin Sergeant said he plans to have a hiring fair and offer higher pay as an incentive to get more police officers to accommodate the coming need.
Washington said the partnership between the city of Pine Bluff and the Quapaw Nation is one of many that the city has formed in order to create a positive impact.
"We have formed the Go Forward Pine Bluff and city of Pine Bluff partnership, and we're moving it forward," Washington said. "We've combined that with our partnership with Southeast Arkansas Community College and our own University of Arkansas at Pine Bluff, forming those partnerships to make this a stronger community and make this community thrive. So our last partnership that's taking place is with Chief Berrey and the Quapaw Casino initiative."