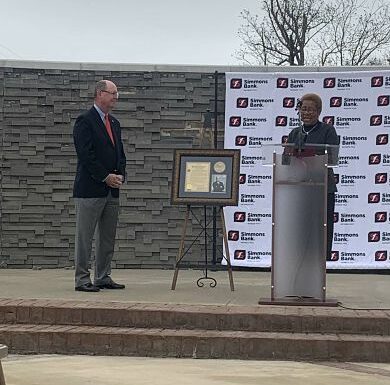 The City of Pine Bluff on Wednesday, January 19th honored George Makris Jr., the Chairman, and CEO of Simmons First National Corp. Wednesday by proclaiming the day George Makris Jr. day.
Mayor Shirley Washington read the proclamation which in part said Makris joined Simmons in January 2013 and "has expanded the bank operations stretch from three states with total consolidated assets of approximately $2.1 billion to across a six-state footprint with approximately $25 billion in assets."
The resolution went on to say that Makris "believes in strong community relationships and demonstrates this through his philanthropy and involvement in key civic organizations."
He is described in the resolution as "a strategist, outstanding businessman and a gentleman with a whole lot of business savvy who just cares for people."
Washington concluded her presentation with this.
Makris was called to the mic and had this to say about the recognition.
The proclamation reads as follows:
Proclamation for George Makris