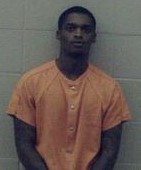 By Ray King
A Pine Bluff man previously charged with residential burglary and first-degree battery in separate incidents last year will be held without bond after he was identified as a suspect in the shooting death of a man July 29.
Jatoria Bryant, 23, turned himself in to detectives Aug. 18 and when questioned, denied any involvement in the incident.
Jefferson County District Judge Kim Bridgforth ruled prosecutors have probable cause to charge Bryant with capital murder and committing a terroristic act.
During a court hearing Monday, Deputy Prosecutor Shana Alexander at 1:49 p.m. July 29, police responded to 8th Avenue and Myrtle Street where they found Christopher Harris on the ground and a witness holding a bloody rag to Harris. He was taken to Jefferson Regional Hospital where he died.
Alexander said police used the camera system to determine the license plate of the car and it returned to Bryant's mother.
She said Bryant failed to appear for a court hearing on the burglary charge last year and his bond in that case has been forfeited. He is also accused of being involved in a shooting on March 26, 2022 and is out on bond of $100,000 in that case.
Bryant said he would hire his own attorney and was told to come back to court Sept. 22.