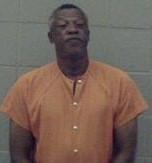 By Ray King
A Pine Bluff man with prior misdemeanor domestic battery allegations was arrested Saturday on a felony allegation after he allegedly hit a female during an altercation.
During a court hearing Tuesday, Deput Prosecutor Brittaney Akel said Gary Ross has three third-degree domestic battery allegations pending.
Jefferson County Sheriff's Deputy Deon Leflore testified that he responded to a second-hand report of a domestic battery incident on Shannon Road and encountered a female victim while conducting a welfare check.
The victim told deputies that they had been cooking and having a good time when Ross hit her.
Pine Bluff District Judge John Kearney set a $20,000 bond for Ross and ordered him to have no contact with the victim until the case is settled. He said he would hire his own attorney and was told to come back to court Oct. 5.