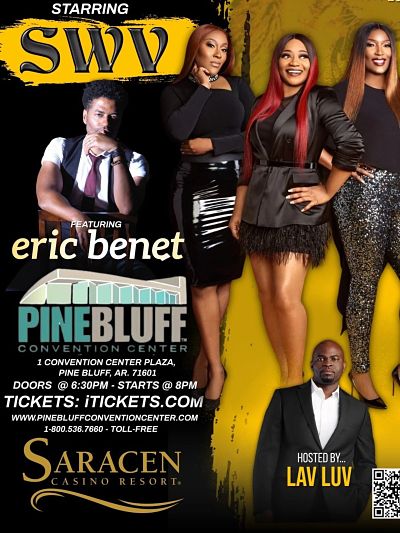 The Pine Bluff Convention Center is hosting an R&B Homecoming Concert sponsored by Saracen Casino to finish the Homecoming week on Saturday, October 16th featuring celebrity artists Eric Benet, SWV, and Comedian LAV LUV. The concert will follow the homecoming football game Saturday, with doors opening at 6:30 PM and the show beginning at 8 PM.
Eric Benet is a 4x nominated Grammy Singer/Songwriter and a 6x NAACP Image Award Nominee opening up the concert for the 90's R&B Group SWV. SWV has over 30 million records sold and has been nominated for Grammy's, an American Music Award, and Source Award.
The Convention Center director Joseph McCorvey spoke about previous concerts that were planned but never occurred and explained the details of this year's concert.
McCorvey also explained the ticket prices, how to purchase them, and other operations that are taking place for the concert.
Although this concert is hosted independently through the Convention Center due to previous setbacks, McCorvey stated that he plans to continue to host a Homecoming Concert with hopes of collaborating with the University and continuing their partnership with Saracen Casino.
McCorvey Spoke more about the contribution that Saracen Casino is making with this concert and how a concert like this will benefit the city.