By Ray King
Jefferson County Judge Gerald Robinson told members of the Quorum Court Tuesday that it looks like the county will be going to court after being sued by the City of Pine Bluff over fees for jail bed space.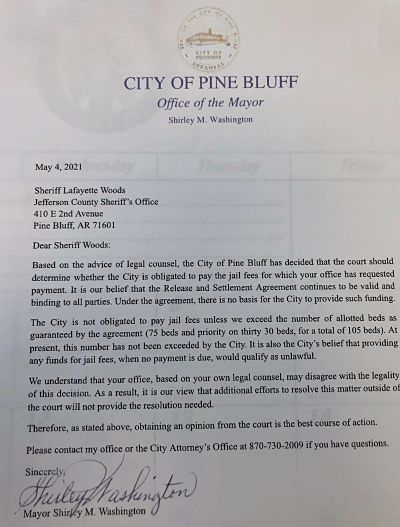 Copies of a letter addressed to Sheriff Lafayette Woods Jr. from Pine Bluff Mayor Shirley Washington and distributed to members of the Quorum Court said that "based on advice of legal counsel, the City of Pine Bluff has decided that the court should determine whether the City is obligated to pay the jail fees for which your office has requested payment."
"It is our belief that the Release and Settlement agreement continues to be valid and binding to all parties," the letter said. "Under the agreement, there is no basis for the City to provide such funding."
A memo which the Mayor sent to members of the City Council Tuesday said that the City Attorney has said that the legislative auditor would find that Pine Bluff is not authorized to make payments like those the county has requested and if payments were  made, it could expose itself to a lawsuit for illegal extraction by members of the public. The memo defined illegal extraction as the wrongful act of paying a fee for services when no such payment is due.
Both the letter to Woods and the memo said the county disagrees with the city's legal opinion and additional efforts to resolve this matter outside a court decision will not resolve the problem.
Robinson told the Justices of the Peace that the county attorney is working on a response to the lawsuit.
During the committee meetings, an effort by Justice of the Peace Dr. Conley Byrd to get a proposed ordinance establishing a permit for hauling companies using county roads tabled failed and the proposed ordinance was sent to the full court which will vote on it next week.
The vote to send it to the full court was 7-5 with one abstention.
Byrd complained that the proposed ordinance was unclear, did not exclude farmers, and was not needed since companies currently pay taxes on equipment like their trucks. After the meeting, Robinson responded to Byrd's concerns.
He said the proposed ordinance would be amended to reflect Byrd's concerns.