Hogs Edged Out By Texas in OT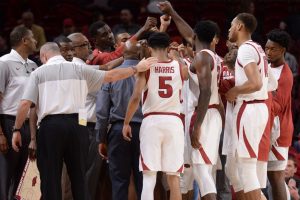 FORT BLISS – EL PASO, Texas –  Arkansas erased a six-point deficit at halftime to force overtime, but Texas hit a jumper and a free throw inside the final minute of the extra period to give the Longhorns a 73-71 overtime victory over the Razorbacks in the ESPN Armed Forces Classic.
First Half- Texas: 36 – Arkansas 30
– Arkansas controlled the tip, but Texas scored first (2-0).
– The Razorbacks went an on 8-0 run thanks to 3-pointers by Mason Jones and Isaiah Joe.
– Texas drained four 3-pointers to led 20-15 at the second media timeout.
– Mason Jones ended a five-minute draught with a layup at the 8:08 mark. Isaiah Joe followed with a 3-pointer to trim the Arkansas deficit to seven (27-20).
– A jumper by Daniel Gafford Jalen Harris layup in the and lay-up by Jalen Harris inside the final minute provided the 36-30 halftime score.
– Daniel Gafford led the Razorbacks with nine points and five rebounds.
Second Half: Arkansas Out-scored Texas 33-27.
– Adrio Bailey (six points) and Daniel Gafford (four) scored the Razorbacks' first 10 points of the second half and Arkansas trailed by just two, 42-20, six-and-a-half minutes into the second half.
– After the second media timeout, Isaiah Joe sparked an 8-2 run to give the Razorbacks a 49-47 lead. Joe hit a 3-pointer, a jumper in the lane and another 3-pointer to the 2-point lead.
– Texas hit a 3-pointer to tie the game at 57-57 at the 2:43 mark. However, Mason Jones immediately answered with a 3 of his own to put the Razorbacks up 60-57.
– A Texas 3-pointer with 1.1 left tied the game, 63-63, to force overtime.
Overtime:
– Isaiah Joe hit a 3-pointer with 2:14 left in overtime to give Arkansas a one-point lead, 68-67.
– Jalen Harris sank a pair of free throws with 1:12 left to once again give Arkansas a one-point lead, 71-70.
– With 47 seconds left, Texas' Courtney Ramey hit a jumper in the lane to put the Longhorns up one, 72-71. After a missed shot by Arkansas, the Razorbacks were forced to foul. Texas only made 1-of-2 and led with two with 21 seconds left.
– Arkansas had a couple of chances inside the final 10 seconds to tie or take the lead, but could not convert.
Daniel Gafford led the Razorbacks with 20 points and 12 rebounds while Isaiah Joe added 17 points.
Arkansas will play its 2018-19 home opener on Monday (Nov. 12) versus reigning Big West Conference Champion UC Davis. Tip-off at Bud Walton Arena is set for 7 pm.
BY Mike Cawood