Arkansas Continues Fall Play At FGCU Collegiate Open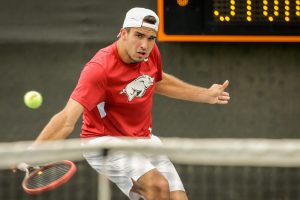 Fayetteville, Ark. – The Arkansas Men's Tennis team will be travel to Naples, Fla. to continue their fall campaign at the 2018 FGCU Collegiate Open at Bonita Bay Club this Friday through Sunday. The men's field is compromised of Arkansas, Florida Gulf Coast, Illinois, Louisville, Memphis, and Kentucky.
The tournament will be team based. On the men's side, the Razorbacks will first see action against host Florida Gulf Coast on Friday at 3 p.m. Saturday they will face Memphis at 11:30 p.m., and they will wrap up the weekend with an 8 a.m. date with Illinois and Louisville on Sunday.
Tournament Schedule
Friday: FGCU vs. Arkansas/Kentucky – 3 p.m.
Saturday: Memphis vs. Arkansas/Kentucky – 11:30 p.m.
Sunday: Illinois/Louisville vs. Arkansas/Kentucky – 8 a.m.
This weekend's fall action will mark Arkansas' fourth fall tournament of the season. The Razorbacks competed at the ITA Central Regional Championships in Tulsa last weekend.
Through it's fall campaign Enrique Paya and Alex Reco lead the way, each posting a 6-3 record in singles play. Jose Alonso holds a 5-2, record while Oscar Mesquida is 5-3. Combined the Razorbacks are 33-23 in singles matches since beginning fall play at the Southern Collegiate Championships Sept. 7-10 in Athens, Ga.
In doubles play, the pair of Oscar Mesquida and Adam Sanjurjo are 3-4, while Josh Howard-Tripp and Alex Reco are 3-2.
For more information on Arkansas Men's Tennis, follow @RazorbackMTEN on Twitter.
BY Devan Lawson