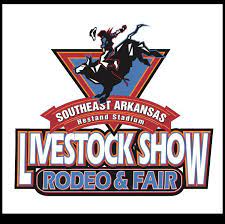 The annual District Southeast Arkansas Livestock Show and Rodeo have been canceled this year due to the lack of financial assistance due to a recent law that was signed in April. The Southeast Arkansas Livestock Association announced its decision in July and also mentioned concerns with gaining a carnival attraction for this area.
Since 1940, the fair and show have been held annually in Pine Bluff at the Hestand Stadium, featuring grand winner prizes in the livestock show, home economics, and arts and crafts categories. Greg Bolin the president of the association met with Deltaplex and further discussed the event and the factors that led to canceling this years show.
In reference to last year's livestock show, Bolin explained that they were able to keep it running with that funding under COVID restrictions. Although their carnival numbers have been low, according to Bolin livestock numbers have been up.
Since last year's show, Bolin explained that the legislature, "struck" the funding that they normally receive from the state to award winners, which amounted to be approximately $20,000, due to the passing of the Arkansas Fair Funding Act, or Act 918. Bolin hopes that during the next legislative session they'll consider bringing that funding back.
Bolin was asked about future plans for the show and talked about the current progress he and the association have made in making plans for 2022.
After asking how local businesses can help get in involved with funding the event, Bolin said,
He also stated that their numbers in attendance to the carnivals they've hosted over the past few years have declined and with the help of the community the association can bring in a carnival and ensure that they will be profitable.