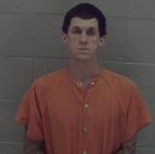 By Ray King
A $50,000 bond was set Tuesday for a Jefferson County man who gave state troopers a false name, then got out of an ambulance the troopers had called to take the man to the hospital and tried to flee.
Pine Bluff District Judge John Kearney set the bond after ruling prosecutors have probable cause to charge Robert Cooksey, 25, with criminal impersonation, felony fleeing and third-degree escape.
Readding from an affidavit by Trooper Joe Anderson, Deputy Prosecutor Shana Alexander said on Aug. 20 at about 9 a.m., troopers were sent to mile marker 35 on Interstate 530 to check the welfare of an individual. They found a man who identified himself as Charles Cole who asked troopers to call an ambulance and take him to the hospital.
Alexander said Cooksey has a warrant for residential burglary from Lincoln County. He was told to come back to court Sept. 25.